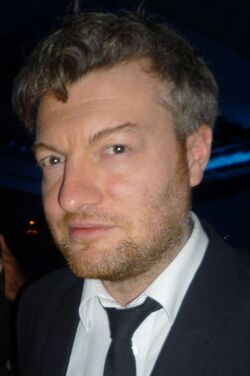 Charlton "Charlie" Brooker (born 3 March 1971) is an English satirist and broadcaster. He has worked in television, radio, print and online media.
In addition to writing credits for programmes such as Brass Eye, The 11 O'Clock Show and Nathan Barley, he has presented a number of television shows, including Screenwipe, Gameswipe, Newswipe, Weekly Wipe and 10 O'Clock Live. He also writes a comment piece for The Guardian, and is one of four creative directors of comedy production company Zeppotron.
Brooker is also noted for his five-part horror drama Dead Set, which was nominated for the 2009 Best Drama Serial BAFTA and also created the tragicomedy drama series Black Mirror (writing and co-writing episodes one and two of the first series and all three episodes of the second series).
His style of humour is acerbic, savage, profane and often controversial with surreal elements and a consistent satirical pessimism. He won the 2009 Columnist of the Year award at the British Press Awards,[1] the 2010 Best Entertainment Programme Award for Newswipe from the Royal Television Society, and has received three British Comedy Awards; Best Newcomer in 2009, Best Comedy Entertainment Show Award for Newswipe in 2011 and the Best Comedy Entertainment Personality award in 2012.